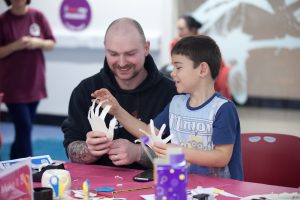 Over the past few weeks, the project has featured at two pop-up exhibitions at the Millennium Gallery and Weston Park Museum, reaching almost 3500 visitors.
The feedback from the public has been fantastic. Through our 'evaluation wall' which captured the visitor demographic and people's experiences, we discovered that the public found our exhibition to be of genuine interest. Comments ranged from 'How great it is for kids, no matter what age' through to 'Learning you could control prosthetics with the brain, and the use of VR to help' and 'How hard it is to live with one arm'.
Next year the exhibition will reach out to even wider audiences when we tie in with national sporting events such as the World ParaAthletics Championships in London in July and the Special Olympics in Sheffield in August. An accessible online resource is also being developed to ensure project sustainability, so that schools and young people, and the general public can extend their learning about cutting-edge research and related study and careers.